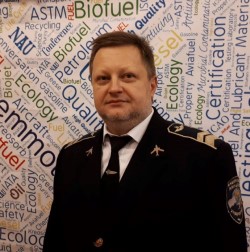 CONTACTS:
E-mail: chemmotology@ukr.net; chemmotology1@gmail.com
Phone: +38(093) 457-01-13
DATA AND PLACE OF BIRTH:
12 April 1968, Mykolaivka village, Odesa region, Ukraine
CURRENT POSITION:
Doctor of Sciences (Technical), Professor of Heat Engineering and Energy Saving Department, National Technical University of Ukraine "Igor Sikorsky Kyiv Polytechnic Institute"
RESEARCH INTERESTS:
Efficient and Rational Use of Fuels, Lubricants & Technical liquids (Сhemmotology). Alternative fuels in an aviation, prevention of motor fuel losses from evaporation during various technological operations, utilization and recycling of transport's operational materials.
MEMBERSHIPS:
Reviewer and Member of the Scientific and Methodological Commission of Ministry of Education and Science of Ukraine; Expert of Working group of Alternative Fuels Task Force (AFTF) of Committee on Aviation Environmental Protection (CAEP) of IСАО (AFTF), Aircraft Fleet Recycling Association (AFRA).
SELECTED PUBLICATIONS:
V. Iakovlieva, S.V. Boichenko, K. Leida, O.A. Vovk, Kh. Kuzhevskii. Influence of Rapeseed Oil Ester Additives on Fuel Quality Index for Air Jet Engines // Chemistry and Technology of Fuels and Oils. – 2017. – Vol. 53. – Iss. 3. – P. 308–317.
V. Yakovlіeva, S.V. Boichenko, K. Lejda, O.O. Vovk Modification of jet fuels composition with renewable bio-additives. – К.: Center for education literature, 2019, 207 p.
Boichenko, O. Аksionov, P. Topilnytskyi, A. Pushak, K. Lejda Selected aspects of providing the chemmotological reliability of the engineering. – К.:Center for education literature, 2019, 342 p.
V. Boichenko, A. V. Yakovlieva, O. O. Vovk, M. M. Radomska, L. M. Cherniak, I. O. Shkilniuk. Fundamentals of Chemmotology. – K.: National Aviation University, 2019, 296 p.
Boichenko S., Yakovlieva А., Lejda K., Kurdel P. Modern Road Transport´s Operational materials: Monograph. – Košice: Technical University of Košice, 2020. – 279 p.