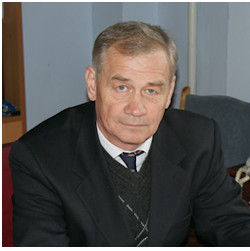 EDITOR-IN-CHIEF
CONTACTS:
E-mail: brei@ukr.net
Phone: +38(044) 594-02-36
---
DATA AND PLACE OF BIRTH:
28 October 1953, Chernihiv, Ukraine
CURRENT POSITION:
Doctor of Science (Chem.), Professor, Corresponding Member of the National Academy of Sciences of Ukraine
Institute for Sorption and Problems of Endoecology of the NASU, Director
RESEARCH INTERESTS:
Heterogeneous catalysis, surface chemistry
SELECTED PUBLICATIONS:
Mylin A.N., Levytska S.I., Sharanda M.E., Brei V.V. Selective conversion of dihydroxyacetone-ethanol mixture into ethyl lactate over amphoteric ZrO2-TiO2 catalyst. Catal. Comm. 2014. 47: 36–39.
Sharanda M., Sontsev V., Bondarenko E., Brei V. Two-stage conversion of glycerol into propylene glycol over Cu/Al2O3 catalyst. Chem. Chem. Techn. 2015. 9: 89-94.
Inshina O.I., Korduban A.M., Telbiz G.M., Brei V.V. Synthesis and study of superacid ZrO2-SiO2-Al2O3 mixed oxide Adsorption Sci. Techn. 2017. 35: 339-447
А.М. Varvarin, S.І. Levytska, V.V. Brei Conversion of ethyl lactate into lactide over acid SnO2/SiO2 catalyst. Catalysis & Petrochemistry 2018. 27: 19-24.
S.V. Prudius, N. Ges, V.V. Brei Conversion of D-fructose into ethyl lactate over SnO2/Al2O3 catalyst. Colloids & Interfaces 2019. 3: 16-23.