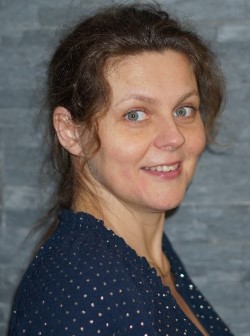 CONTACTS:
E-mail: Kateryna.fatyeyeva@univ-rouen.fr
Phone: +33-2-35-14-66-95
DATE OF BIRTH:
13 March 1978, Kyiv, Ukraine
CURRENT POSITION:
Laboratoire Polymères Biopolymères Surfaces, UMR 6270, Université de Rouen Normandie, Bd. Maurice de Broglie, Bat. 23, 76831 Mont Saint Aignan, France, Lecturer, PhD - HDR
RESEARCH INTERESTS:
Sorption and permeation process through the polymer materials (water in liquid and vapor state, gases, VOC); Structure/morphology/functional properties of polymer membranes for CO2 separation and fuel cells; Polymer membranes for the water depollution; Elaboration of biobased polymer materials.
MEMBERSHIPS:
GDR Ionic liquids and polymers (France)
SELECTED PUBLICATIONS:
Fatyeyeva K., Rogalsky S., Tarasyuk O., Chappey C., Marais S. Vapour sorption and permeation behaviour of supported ionic liquid membranes: Application for organic solvent/water separation // Function. Polym. 2018. 130. P. 16-28 DOI: 10.1016/j.reactfunctpolym.2018.05.007
Sellami F., Kebiche-Senhadji O., Marais S., Couvrat N., Fatyeyeva K. Polymer inclusion membranes based on CTA/PBAT blend containing Aliquat 336 as extractant for removal of Cr(VI): efficiency, stability and selectivity // Function. Polym.2019. 139. P. 120-132. DOI: 10.1016/J.REACTFUNCTPOLYM.2019.03.014
Marcano A., Fatyeyeva K.*, Koun M., Dubuis P., Grimme M., Marais S. Recent developments in the field of barrier and permeability properties of segmented polyurethane elastomers // Chem. Eng. 2019. 35. P. 445-474. DOI: 10.1515/revce-2017-0033
Fatyeyeva K., Rogalskyy S., Makhno S., Tarasyuk O., Soto Puente J.A., Marais S. Polyimide/ionic liquid composite membranes for middle and high temperature fuel cell application: water sorption behavior and proton conductivity // Membranes 10. P. 82. DOI: 10.3390/membranes10050082
Prykhodko Y., Fatyeyeva K., Hespel L., Marais S. Progress in hybrid composite Nafion®-based membranes for proton exchange fuel cell application // Eng. J. 2021. 409. 127329. DOI: 10.1016/j.cej.2020.127329