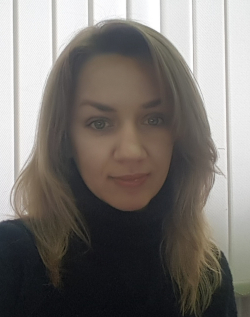 EXECUTIVE SECRETARY
CONTACTS:
E-mail: himyla@gmail.com
Phone: +38(068) 979-06-00
DATA AND PLACE OF BIRTH:
18 December 1985, Kolysniki village, Nizhyn district, Chernihiv region, Ukraine
CURRENT POSITION:
PhD (Chemistry) Researcher at the Department of Organic and Petrochemical Synthesis
V.P. Kukhar Institute of Bioorganic Chemistry and Petrochemistry of the National Academy of Sciences of Ukraine.
RESEARCH INTERESTS:
Petrochemistry and coalchemistry; syngas conversion into methanol, ethanol, dimethyl ether; mechanochemical activation of heterogeneous catalysts.
SELECTED PUBLICATIONS:
Patent № US 8,536,234, B2. Process for generation of synthetic fuel from carbonaceous substances. Valerii Kukhar, Valeriy Bortyshenskyy, Nataliia Khimach, Viktor Burdeynyy, Rayisa Korzh, Svitlana Melnykova, Dmytro Kamenskyh. № US 8,536,234, B2 Date of Patent Sep.17, 2013.
N. Khimach, V. Yevdokymenko, I. Polunkin. Recycling of carbone oxides (CO, CO2) conversion to methanol at atmospheric pressure over mechanochemical achtivated CuO-ZnO-Al2O3 catalyst. EUREKA: Physical Sciences and Engineering. 2016. # 6. С. 11-18. http://dx.doi.org/10.21303/2461-4262.2016.00210
Khimach N. Y., Polunkin I. V., Filonenko M.M., Melnykova S.L. Activation of a catalyst of the methanol synthesis by a mechanical effect. Reports of the National Academy of Sciences of Ukraine, 3, 86-92. 10.15407/dopovidi2016.03.086 https://doi.org/10.15407/dopovidi2016.03.086
Khimach N.Yu., Polunkin Ye.V., Mel'nykova S.L., Kolomys O.F. Mechanochemical modification of cupper-zinc-aliminium oxide catalyst of methanol synthesis. The Issues of Chemistry and Chemical Technology. 2016. с. 78-82. http://nbuv.gov.ua/UJRN/Vchem_2016_1_15.
О.О. Haidaj, Khimach N.Yu., Pyliavskyi V.S, Polunkin Ye.V. New ways of alternative motor fuels production from renewable source. ScienceRise. 2016. #6.2(23). pp. 13-21.