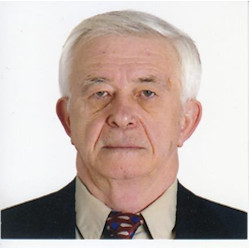 CONTACTS:
E-mail: yupyat@ukr.net
Phone: +38 (044) 525 44 35
DATA AND PLACE OF BIRTH:
8 May 1938, Kyiv, Ukraine
CURRENT POSITION:
Doctor of Chemical Science, Professor
Principal Scientist of Department of Catalytic Synthesis Based on Single-Carbon Molecules
L.V. Pisarzhevsky Institute of Physical Chemistry NAS of Ukraine
RESEARCH INTERESTS:
Kinetics of catalytic reactions; catalytic reactions of partial oxidation; Fischer-Tropsch synthesis; conversion of natural gas into valuable products; modeling of homogeneous and heterogeneous catalytic reactions; catalysis in environmental protection
MEMBERSHIPS:
Member of Editorial board of "Theoretical and Experimental Chemistry" journal (Ukraine)
AWARDS, HONORS:
The winner of the prize. LV Pizarzhevsky of the NAS of Ukraine (2000);
Honors of NAS of Ukraine "For scientific achievements"(2007)
SCIENTIFIC PUBLICATIONS:
Total: 4 monographs and over 200 articles.
SELECTED PUBLICATIONS:
Dolgykh L.Yu., Stolyarchuk I.L., Staraya L.A., Vasylenko I.V., Pyatnytsky Y.I., Strizhak P.E. Steam reforming of ethanol over manganese and iron oxides for hydrogen production. Adsorp. Sci. Techn., 2015. - V.33, N.6-8. - p. 715-721.
Столярчук И.Л., Долгих Л.Ю., Василенко И.В., Пятницкий Ю.И., Стрижак П.Е. Ферриты MFe2O4 (M = Mg, Mn, Fe, Zn) как катализаторы парового риформинга этанола. Теорет. эксперим. химия, 2016, Т.52, №4. - c.244-248.
Долгих Л.Ю., Столярчук И.Л., Старая Л.А., Пятницкий Ю.И. Паровой риформинг этанола на ферритах. Теорет. эксперим. химия, 2018, Т.54, №5. - c.318-325