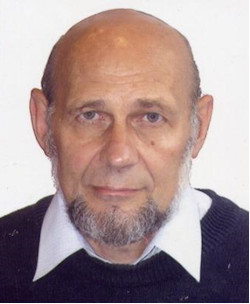 DEPUTY-EDITOR-IN-CHIEF
CONTACTS:
E-mail: zazhigal@ispe.kiev.ua, vazazh@ukr.net
Phone: +38(044) 452-73-76;
Mob.Phone: +38(050) 761-54-30
DATA AND PLACE OF BIRTH:
1946, Kyiv, Ukraine
CURRENT POSITION:
Doctor of Sciences (Chem.), Professor, Corresponding Member of the National Academy of Sciences of Ukraine
Head of the Department (Department of Catalytic Oxidation Processes)
Institute for Sorption and Problems of Endoecology of the National Academy of Sciences of Ukraine
Second position: Head of Ukrainian-Polish Laboratory of Catalysis
RESEARCH INTERESTS:
Catalysis, catalysts synthesis, photocatalysis; Synthesis of nanodimensions materials and nanocatalysts;
Non-traditional methods of catalysts and functional materials preparation (mechanochemistry, sonochemistry, hydrothermal method, ionic implantation);
Modern methods of bulk solids and their surface study
MEMBERSHIPS:
Member of Editorial board of journals "Nanosystems, Nanomaterials, Nanotechnologies" ("Nanosistemi, Nanomateriali, Nanotehnologii ") (Ukraine) and "Chemistry, Physics and Technology of Surface" ("Himia, Fizika ta Tehnologia Poverhni") (Ukraine)
TEACHING ACTIVITY:
Supervisor of 8 PhD, 2 dissertations in preparation, 2 Postgraduate students
AWARDS, HONORS:
State Price of Sciences and Technologies (Ukraine) – 2014
Outstanding Reviewer Status (Elsevier) – 2014
Valued Reviewer (Elsevier) – 2016
SCIENTIFIC PUBLICATIONS:
Total: Book – 1, Papers -256 (Scopus – 121), Patents – 22
SELECTED PUBLICATIONS:
V.A. Zazhigalov, O.A. Diyuk, O.V. Sachuk, N.V. Diyuk, V.L. Starchevsky, Z. Sawlowicz, I.V. Bacherikova, S.M. Shcherbakov. The effect of mechanochemical and ultrasonic treatments on the properties of composition CeO2-MoO3=1:1 Nanochemistry, Biotechnology, Nanomaterials, and Their Applications. Edt. O. Fesenko, L. Yatsenko. Springer Cham (610p.) – 2019. – V. 221. – P. 109-123. https://doi.org/10.1007/978-3-030-17759-1б,
Print ISBN 978-3-030-17758-4 (Scopus).
V.A. Zazhigalov, O.V. Sachuk, O.A. Diyuk, V.L. Starchevskyy, L.S. Kuznetsova, M.M. Kurmach, N.D. Shcherban. Investigation of properties of the sonomodified ZnO-CeO2 system. Molecular Crystals and Liquid Crystals. – 2019. – V. 672, No. 1. – P. 115-122.
V.A.Zazhigalov, V.V.Honcharov, I.V.Bacherikova, R.Socha, J.Gurgul. Formation of nanodimentional layer of catalytic active metals on stainless steel surface by ionic implantation. Theor. Experim. Chem. – 2018. – V. 34, N 2, p. 128-137.
V.A.Zazhigalov, O.V.Sachuk, O.A.Diyuk, V.L.Starchevskyy, S.V.Kolotilov, Z.Sawlowicz, S.M.Shcherbakov, O.I.Zakutevskyy. The ultrasonic treatment as a promising method of nanosized oxide CeO2-MoO3 composites preparation. Springer Proc. Phys. – 2018. – V.214, Chapter 18. – p. 297-309. ISSN 0930-8989, ISBN 978-3- 319-92566-0.
V.Honcharov, V.Zazhigalov. The use of ionic implantation in the synthesis nano palladium for biosensors. Int. J. Biosen. Bioelectron. – 2018. – v. 4, N3. – p. 98-100.